Dolomites, Dolomiti, or Dolomiten: our quest for the high and (Dolo)mighty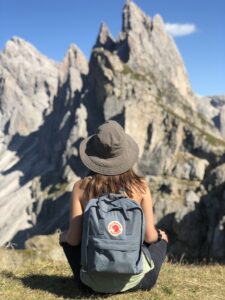 The Dolomites in Italy have long been one of our dream travel destinations, so it should come as no surprise that when we were outlining the beginnings of our would-be itinerary on a diner napkin, hiking in the Dolomites was at the top of our list.
It did not take long after plunging into the nitty gritty details to learn that the task of planning this leg of our trip would be overwhelming. Not only is there a seemingly endless supply of astonishing alpine attractions (all of which would be impossible to visit in our 4-day itinerary), but also because every mountain and town has been christened not once, but thrice: in Italian, German, and sometimes Ladin (an ancient romantic language of the region), which can make for a confusing time. During our short time there, we found that though the main language can change between valleys, the predominant language spoken is South Tyrolean German. This was also true of the cuisine, which was a mixture of scattered pizzerias and traditional Tyrolean meals.
Because of the mountains, it takes an absurd amount of time to drive anywhere in the Dolomites, so creating an itinerary with as much time spent on the trail and as little on the road was also one of our top concerns. This brings us to our decision to rent a car for our time in Northern Italy; if we had to do it over again, we would rent one 1000 times over. Public transportation in the region exists (and is actually pretty decent given how remote the areas are), but when it comes to expediency, carting around our sizable backpacks, and not being at the mercy of Italian transit (we've had our ups and downs), it was the only way to go. In the American tradition, neither of us know how to drive a manual transmission, which left us stuck with a Fiat 500 as our only affordable "automatic" option. In truth, this car is a kind of Frankenstein's monster hybrid between a manual and automatic transmission and will go down as the worst car we've ever had the displeasure of driving. We are fairly confident that that sorry excuse for car gave up its best miles to us driving up and down those steep mountain roads… Little did we know, this would not be the last of our dealings with this POS car, and we can now confirm our hypothesis that this is indeed the worst car ever.
The other mind boggling aspect to planning a trip in this mountain lover's paradise, is the sheer amount of "rifugios" (mountain refuges) to hike to. They are scattered throughout the mountains so that backpackers can hike from refuge to refuge. Whether to simply enjoy a cold beer after a strenuous ascent or for a warm bed to spend the night, these little slices of heaven quickly became one of our favorite hiking traditions in the Dolomites. We knew we wanted to incorporate a stay in one of these mountain huts, but which one? In the end, we sort of closed our eyes and chose one at random after too much research and a lot of indecision. We learned later from other hikers that the one we "chose" was actually one of the best huts in the area. To read more about our hike and overnight experience at Tierser Alpl, read our blog post, One does not simply climb a mountain.
At the outset, we drove into the mountains and stayed in a historical Airbnb covered in genuine antique frescos located in the heart of the medieval town, Feltre. Feltre is a little off the beaten path and is situated directly west of Belluno, which we consider to be the "gateway" to the Dolomites. After our all-cheese diet in Switzerland, we decided that we needed a real ass-kicker as our first hike in the area. Rachel started popping Acetazolamide like candy (hyperbole alert: please consult your doctor before taking any prescription meds) because she has a fear of altitude sickness (but also seriously, beware of altitude sickness). We chose a supposed "8-mile" hike to summit Monte Schiara in the Parco Nazionale delle Dolomiti Bellunesi. If you couldn't tell from the suggested tone, we were hoodwinked into a relentless 10-mile hike that even after over 4,100 vertical feet, was still an eight hour climb to the summit. We're not sure what went wrong here, but turns out the universe had it's reasons. Our (amended) destination was a humble refuge called Rifugio 7° Alpini which, after our not so graceful ascent, might as well have been the Ritz (as an added bonus, it was home to three fluffy mountain dogs). Whilst we were drinking our well deserved beers taking in the mountain view, we met fellow hikers, one of which was a Brit named Joe: an actor who was attempting to hike from Venice to Munich, a long distance hike called the Traumpfad (or dream path). Long story short, he is our favorite new friend and we met up with him again in Munich at Oktoberfest a couple of weeks later.
We really enjoyed hiking in the Parco Nazionale delle Dolomiti Bellunesi because it is one of the less traveled areas in the Dolomites (so no one had to see us whimpering up the mountain), and we could really experience the hike without hoards of other visitors. This park is also the southern terminus of the Alta Via 1, a 150km trail that is known as the "high route" through the Dolomites. We met a couple of people who were finishing up this adventure, and it was an awesome experience to share in that victorious energy.
Mid September is "shoulder season" in the Dolomites, wedged between peak hiking season in the summertime and the winter, when the region transforms into a world class skiing destination. As savvy travelers, we tend to almost exclusively opt for shoulder seasons due to lower costs, more moderate temps (summer heat can become intolerable), and because everything is far less crowded by tourist traffic (appreciating an attraction with hundreds of other people can lose its charm quick).
Driving in the Dolomites is difficult because it's hard not to stare out the window at the breathtaking views and towering pillars of granite capped with fresh snow. The other reason it is treacherous to drive the mountain roads is because of the droves of bicyclists. We don't wish to offend anyone, but we have come to the conclusion that you have to be a special kind of crazy to enjoy that kind of torture (and blatant disreguard for self preservation).
The last hike we undertook was the path from Col Raiser to Seceda, the spot that hooked Rachel on the Dolomites to begin with. It's unmistakable green velvet meadows meeting sharply at jagged mountain cliffs is unlike anything we've ever seen before. This was the most "touristy" location we visited during this trip, and even though it attracted more people than we'd seen the whole 4 days, it was impossible to be unimpressed. It is also a more popular destination because there is a very convenient ski lift that offloads at the very top. We took the substantial climb from Col Raiser and hiked through some more breathtaking alms and rifugios. We ran into a train of donkeys (including several babies!!) which had us feeling giddy (or perhaps it was the thin air?).
Our only regret of the whole experience, is that we didn't have more time there. If we could have, we would have hiked hut to hut and become mountain (wo)men for at least a few weeks. We both vowed that we would be back, and hopefully hike some long distance trails. When it comes down to it, we'd always rather be hiking, and this trip will certainly go down as one of the most epic 4 days of our lives.